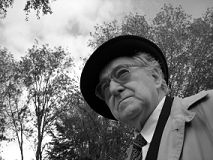 Josef Miriam
A German-Polish poet. Born 1930 in Upper-Silesia in Poland, now living in Karlsruhe is still closely linked to his roots and the culture of Silesia. His first poem was written by the age of 38 on March 21st 1968. Ever since he has linked his two mother-tongues, German and Polish in his prose. All his poems are written in both languages and are usually recited bilingual in lectures. Frequent recitals in one of his many 'Poetic Galleries' in and around Karlsruhe are part of Josef Miriams daily life.
The 78. Poetic Gallery in the GaleriaVista is on display until spring 2008 and open during regular gallery hours.
Dates for recitals will be announced in regional press.